L'argent de ma mère

Cette série est un docu-fiction réalisé en photogramme à l'occasion de l'exposition The Plates of the present, so far (Janvier 2017) organisée par Thomas Fougeirol et Jo-Ey Tang.

Dans un pays où l'argent n'est presque qu'en liquide et ayant des parents commerçants, j'ai grandi en les voyant régulièrement compter des liasses de billets.

Mes images sont issues d'un court film sur ma mère qui transporte un sac plastique rempli de francs CFA à déposer chez son transitaire.

Le Mali a toujours eu pour moi une allure de Far West, avec son désert qui cache des brigants dans ses dunes, aux rapports à l'argent et au business très importants

''L'argent de ma mère'' c'est une transaction romancée qui fait passer ma mère de la commerçante qu'elle est à une mafieuse d'Afrique de l'Ouest et qui me permet aussi de questionner la polémique autour du franc CFA et de son histoire coloniale.


---

Based on the photographic process of the photogram, this series is a docu-fiction created for "The plates of the present, so far'' exhibition co-founded by Thomas Fougeirol and Joy-Ey Tang.

Growing up with shopkeeper parents in a country where money is almost only in cash, I was used to often see them count wads of bills. My images are extracted from a short film about my mother carrying a plastic bag full of CFA francs to her freight forwarder.

Mali has always looked like the Wild West to me, with its desert that hides bandits in its dunes and its very important money and business relationships.

"L'argent de ma mère'' is a novelized transaction that makes my simple shopkeeper mother look like a West African mob related. It also allows me to question the debate regarding the CFA franc and its colonial history.

— Translated by Joséphine Dick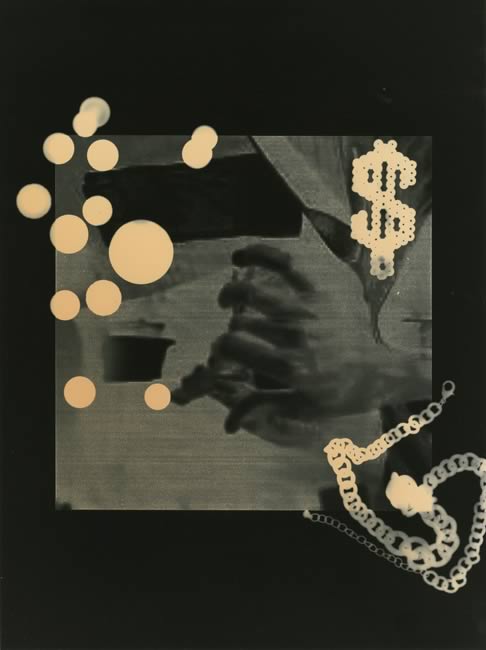 Photogrammes
Format A3
2018